Intergovernmental Panel on Climate Change (IPCC), back in the early 1990s, estimated that climate change would crucially impact human migration. Millions of people will be displaced due to erosion, agricultural disruption and coastal flooding. Since then, several reports surfaced that declared the rising change in climatic conditions would most likely displace the population, which is a critical issue to work on.
Moreover, Professor Myser estimated that 200 million people will be migrated by 2050. If you put the figure into an accurate number it means that by 2050 one in every 45 people in the world will be displaced due to climatic conditions.
Discussing the degradation and impact of climate, Anote Tong, President of Kiribati stated, "For our people to survive, then they will have to migrate. Either we can wait for the time when we have to move people en masse or we can prepare them."
Hence, it's time to prepare ourselves to make a small contribution to save the planet and minimize the severe climatic conditions. To help grab the pearls of wisdom and some actionable tips, here is the list of top-rated books on climate migration you must check out.
1. Move: How Mass Migration Will Reshape the World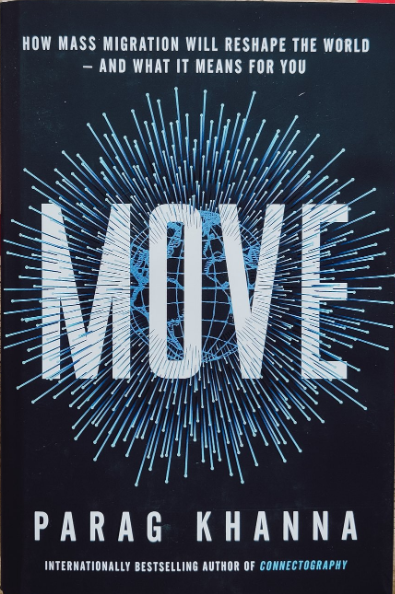 Parag Khanna, author of A Financial Times Best Book of 2021- Move: How Mass Migration Will Reshape the World and What It Means for You, shares insights and predictions regarding the future of climatic conditions. He points out some mind-boggling questions: How humanity will shape by 2050? Where will the future generation settle by 2040? And Where will humans live in 2030?
The book sheds light on how people will migrate to a world that can provide basic resources. It highlights how technology will advance and flow to the users who need it.
Reviews:
3.9 on Amazon
2. The Next Great Migration: The Beauty and Terror of Life on the Move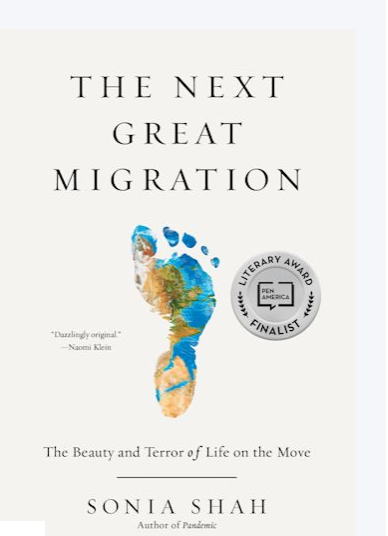 Sonia Shah, a prize-winning journalist, in her best-selling book, upends the centuries-long assumptions regarding migration through history, and science. She predicts some life-saving wisdom in the wake of adverse climatic conditions. She emphasises how vital and necessary migration has become to thrive and survive. Awarded as A Library Journal Best Science & Technology Book of 2020, the book put forward the groundwork to understand migration and learn about its crucial benefits.
Reviews:
4.6 on Amazon
3. Climate and Human Migration: Past Experiences, Future Challenges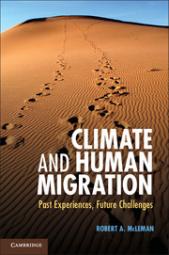 Robert A. McLeman compiled a comprehensive review of the physical and human processes that interact with the climate impact on migration. he used simple models and diagrams to explain the climate-migration process.
One can grab the standard theories and concepts that are used in climate and migration scholarship. Moreover, the book highlights some key factors that contributed to the occurrence of the Dust Bowl, Hurricane Katrina, floods in Bangladesh and China along with African droughts. It explains how these turmoils triggered human migration. With references from past experiences, he laid down the predictive analysis of the migration pattern which is going to unfold in the coming years.
Reviews:
4.6 on Amazon
4. Climate Change, Forced Migration, and International Law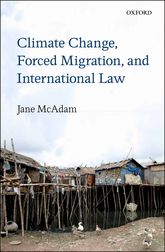 Jane McAdam in her book critically ponders how States should have legal frameworks to protect the people displayed due to the changing climatic conditions under the international human rights law, international refugee law, and international law. She carried out fieldwork in India, Bangladesh and the Pacific island states of Tuvalu and Kiribati to evaluate the phenomenon of climate-change-induced displacement.
She evaluated whether it's a sound category to be included in academic inquiry. Furthermore, the book puts forward the arguments and reasons regarding why and how people migrate.
It discusses the extent to climatic changes contributed by the socio-economic factors including the creation of new institutions, and the conclusion of new treaties. Drawing the conclusion, the book raises a new argument of whether considering a flight from habitat destruction as an important aspect of traditional international protection or a rising challenge that calls for reformed policies.
Reviews:
5. Storming the Wall: Climate Change, Migration, and Homeland Security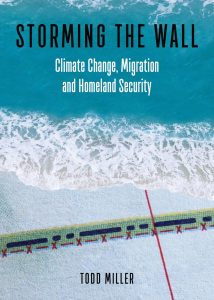 Todd Miller's book can dramatically change the reader's view of a global problem. Enlisted as one of the finest  "15 Books on Climate Change That Are Essential Reading" – Esquire, it offers galvanizing forecasts of global warming.
Todd Miller travelled across the world to create factual grounds for his theories concerning climate-ravaged communities. He pondered on several corporations involved in border militarization along with focusing on movements for environmental sustainability and justice. Miller chronicles a developing system with reports based on climate clashes and future predictions. This system represents militarized divisions between the class of society.
The credibility and brilliance of the author are reflected in his several achievements. Todd Miller's writings also appeared in the New York Times, Tom Dispatch.
Reviews:
4.6 on Amazon
6. Planetary Specters: Race, Migration, and Climate Change in the Twenty-First Century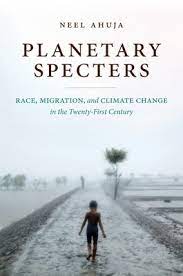 Neel Ahuja in his book Planetary Specters argued that security experts, journalists, non-governmental organizations and politicians the point that have oversimplified the climatic degradation. He impresses upon the point that the policymakers and people in command have obfuscated the processes contributing to the mass human migration.
According to Ahuja to understand the core systemic reasons for displacement it's important to frame out climatic disasters interlinking them with the global politics of race and the history of capitalism.
Furthermore, he impresses how racist presumptions regarding Indigenous knowledge and agrarian underdevelopment shape the development, financial, migration and most importantly climatic adaptation frameworks and how they all reproduce growing inequalities.
Review:
4.5 on Amazon
Wrap Up
It's becoming crucially important to dive into the depth of the current law and order situation to understand how policy-making can help us minimize the adverse impact of human civilisation on climate. Each of these books sheds light on the causes and impacts of climatic changes and how humans can benefit from migration.