A kitchen is the center of your home and should have an appealing design. You can make your kitchen look beautiful yet eco-friendly with a sustainable kitchen design while enjoying many years of use.
Whether you're remodeling your kitchen or finding sustainable designs for a soon-to-be-built one, our article covers everything you need to know to create a sustainable kitchen.
If you're into zero waste cooking, you're going to want to rethink any of your upcoming kitchen renovations and improvements to be in line with your values. 
What makes a kitchen sustainable?
A kitchen is sustainable when it uses recycled or recyclable materials and reduces food waste. It must also be constructed using sustainable practices. Such as energy-efficient appliances, lighting, water conservation features, and appropriate heating and cooling methods.
To achieve a truly eco friendly kitchen, you must consider your building materials and appliances. As well as what you use them for. When done correctly, your kitchen will reduce your environmental impact and save you money on utilities.
1. Sustainable building materials
When building an eco friendly kitchen, try using more and more sustainable building materials. Sustainable materials help reduce your carbon footprint and save energy in the long run. Additionally, they are often more durable than traditional ones and require less maintenance. 
When it comes to sustainable building materials, bamboo is one of the most popular sustainable materials. It's strong, durable, and grows quickly, an eco-friendly option for construction projects. 
Some other sustainable materials are as follows.
FSC (Forest Stewardship Council) certified cabinetry

Non-VOC paint

Wool insulation

Recycled steel or glass
2. Natural lighting
One of the main goals of sustainable kitchen design is to reduce the amount of energy used. And one way to do that is to take advantage of natural lighting as much as possible.
In fact, using natural light can help you save money on your energy bill and make your kitchen more comfortable to cook in.
Here are a few things you can do to take advantage of natural light in your kitchen.
Install skylights: Skylights are a great way to bring natural light into your kitchen. They let in sunlight during the day and also help ventilate the space.

Use light-colored paint: Light-colored paint reflects light, making the space feel brighter.

Use mirrors: Mirrors reflect light, making the space feel brighter and bigger.

Install solar tubes: Solar tubes such as

Velux

are a great way to bring natural light into your kitchen without installing skylights.

Use LED lighting: LED lighting such as

Ikea – LED2014G10

or

Satco – S8738

is more energy-efficient,

ranging from 160.7 to 145.5 lumens/watt

. So, it can help you save money on your energy bill.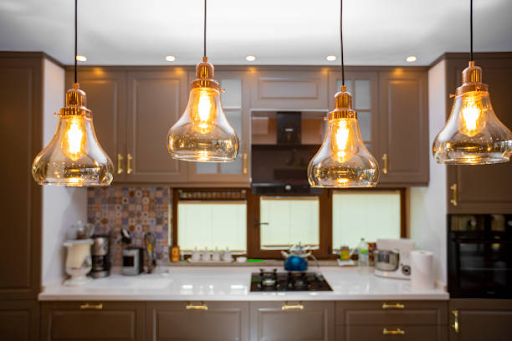 3. Sustainable energy-efficient appliances
For all of those zero waste recipes you'll be cooking, you're going to want energy-efficient appliances.
It is important to consider the environmental impact of your kitchen appliances. You can save energy and money by using sustainable, energy-efficient appliances in your kitchen.
There are several different energy-efficient appliances that you can use in your kitchen, including refrigerators, ovens, and dishwashers. 
In addition, take some time to research and look for appliances with Energy Star symbols and ratings. The ratings range from A+++, best in sustainability, to G, the worst.
4. Optimized heating and cooling in the home
HVAC systems are responsible for a large amount of energy consumption in homes. So, to build a sustainable kitchen, consider your area's climate to determine the size of the HVAC system you need.
Underfloor heating is greatly recommended for sustainable kitchen and home designs. It may cost 30% more than the regular home radiators, but its yearly costs are half compared to radiators.
Creative ways to design a sustainable kitchen
Ready to upgrade your kitchen? Here's how to do it right.
Opt for a timeless design you won't get sick of
To ensure that your eco-friendly kitchen sticks around for a long time, choose evergreen design elements. That way, you won't have to renovate again in a few years when you're ready for a change. 
When it comes to sustainable kitchen design, it's better to choose fewer, higher-quality pieces than a bunch of cheap, disposable items. You can also use any durable material like stainless steel for hardware. Ensure your kitchen stands up to wear and tear without falling apart before you want it to.
Book a consultation with one of the following sustainable kitchen design companies to get clear estimates and advice. 
Choose an energy-efficient refrigerator
Consider getting an energy-efficient refrigerator as regular refrigerators are high energy-consuming and emit greenhouse gases. At the same time, energy-efficient refrigerators run on a more sophisticated cooling system. It uses less energy while lowering your utility bill and reducing your carbon footprint.
Here are the top 3 refrigerators awarded Energy Star's "Most Efficient 2022".
Choose an energy-efficient dishwasher
Dishwashers are heavy on the electricity bill and consume a large amount of water during each cycle. However, to cut energy consumption, Blomberg – DWT 81800, VIKING – VDWU324SS, and Beko – DDT36430 are the best options. These appliances use only 2.36 gallons/cycle and 225 kWh/year. 
Choose an induction range for your stove
Induction ranges use magnetic fields to convert electrical energy into thermal energy. So, cookware must be made of ferromagnetic metals like iron, cobalt, or nickel for them to work.
Induction stoves may be more expensive than gas stoves. But they're a great source to reduce fossil-fuel gases created by gas stoves and reduce CO and NO2 emissions in the house. Samsung is an incredible induction range in terms of features, but Frigidaire Gallery provides the same quality on a budget.
Opt for re-using appliances when possible
When it comes to appliances, it's often easier to simply buy a new one when the old one breaks down. However, it's generally more environmentally friendly to repair or reuse an appliance than to merely toss it in the trash and buy a new one. Plus, repairing or reusing an appliance can save you a significant amount of money in the long run. 
The Facebook marketplace and Busens Appliances are good for buying used appliances. 
Choose cabinets and countertops made with recycled materials
Countertops made of recycled glass and quartz have become popular nowadays, especially for their sleek finish, contemporary look, and durability. You can opt for Enviroglas Products to get glass countertops made with 75% recycled glass. Caesar Stone is a Greenguard certified company that provides quartz and stone countertops.
Go for sustainable utensils
When it comes to outfitting your kitchen with cooking utensils, opt for sustainable materials, like bamboo or silicone, which is very eco friendly because it doesn't require a lot of fossil fuels to produce and is safe for cooking use.
Conclusion
Sustainable kitchen design is becoming an ever-more popular trend. With so many options, it can be difficult to start if you don't know where to go. Hope our well-curated guide helps you achieve eco-friendly environmental and economic outcomes.